Many companies have produced Doctor Who toys and games starting in the 1960's during the period of 'Dalekmania'. Since then Denys Fisher released a selection of 9" figures in the mid-1970s, while Dapol made various figures during the 1980's/1990's and most recently Character Options have produced a range of 5.5" figures and various other toys since the revival of the show in 2005.
Denys Fisher
Edit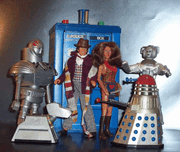 In 1977 British toy company
Denys Fisher
along with US company Mego created a range of 9.5" Doctor Who action figures including the Fourth Doctor, Leela, K9, the K1 robot (referred to as the "Giant Robot"), a Cyberman, a Dalek and a large plastic and cardboard version of the TARDIS. An advertisement for these action figures can be seen on the DVD of
The Face of Evil
.
Character Options
Edit

See Character Options for a complete list of releases.
Character Options has been the holder of the BBC's main toy licence since 2005. It has produced high quality and collectible toys and action figures drawing on the new and classic series of Doctor Who and The Sarah Jane Adventures.
Community content is available under
CC-BY-SA
unless otherwise noted.